Yokkyuu Fuman Zuma shika Inai Shima ~ Erroi Fuushuu no Aru Shima de wa Hitozuma wa Otto Igai no Otoko to Majiwaru The Motion Anime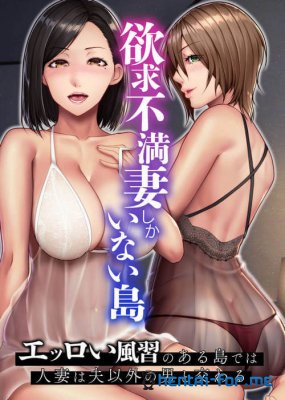 The protagonist of the hentai is a student loser Hiroki Ayase, who is in a terrible depression after failing the entrance exams to the university. On the advice of his parents, he decides to spend some time at a guest house run by his cousin. Hiroki must go through a period of mental and physical recovery, along with his cousin and married woman Yoriko Ooba, whom he has not seen for several years. She was beautiful and kind as always... Aoba is Hiroki's first love. The protagonist realizes that now his sister belongs to another man, but her incredibly sexy body and warm attitude awaken lust in him. He can't hide her. One day, while drying laundry in the garden, Hiroki finally breaks down and secretly jerks off Yoriko's laundry. Fumie Kitayama, a beautiful woman who lives next door, watches this amazing process from the sidelines. Fumie tells him about a mysterious code of ethics that has existed on the island since ancient times. Here, a married woman is allowed to have sex at night when her husband is not around. The island, a short distance from the mainland, has a rich nature and a thriving fishing industry, and the men are rarely at home because they fish in distant seas. The island has a rich nature and a thriving fishing industry, and the men go out to sea to fish and are rarely at home. Therefore, lustful wives are sometimes allowed to fuck for their own pleasure. Of course, Hiroke couldn't miss this chance and fucked Fumie first, and then Yoriko...
Больше информации об этом исходном текстеЧтобы получить дополнительную информацию, введите исходный текст
Отправить отзыв
Боковые панели
Year:
2023 Year.
Release date:
2023
Source:
Manga
Genre:
Motion comic, Big tits, Oral sex, Creampie, Group sex, ntr
Quality:
WEB-720PX
language:
RAW
English name:
Yokkyuu Fuman Zuma shika Inai Shima ~ Erroi Fuushuu no Aru Shima de wa Hitozuma wa Otto Igai no Otoko to Majiwaru The Motion Anime
Original name:
Yokkyuu Fuman Zuma shika Inai Shima ~ Erroi Fuushuu no Aru Shima de wa Hitozuma wa Otto Igai no Otoko to Majiwaru The Motion Anime
Director:
NCP
Studio:
NCP
Watch hentai online Yokkyuu Fuman Zuma shika Inai Shima ~ Erroi Fuushuu no Aru Shima de wa Hitozuma wa Otto Igai no Otoko to Majiwaru The Motion Anime free in good quality
---
Leave a comment
4-05-2023, 21:40