Taboo ~ Seishinkai to Kizu o Otta Shoujo ~ The Motion Anime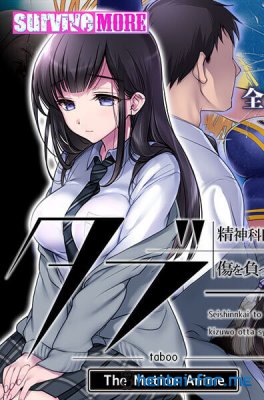 Her name was Mizuki Hiiragi - that day she was lying face down in the examining room of my medical office, upset. She did not react to my attempts to give her advice and only looked at me with her empty, devoid of light eyes. She was once a member of the school's cheerleading club, and her bright smile captivated everyone who saw her. Now she never smiles. She was the victim of a horrific sex attack by a stalker. She was broken, and I'm happy that I became her psychiatrist. I wanted to help her get well at any cost... that's what I firmly thought. ---And after a few months... She finally began to smile again. Rehabilitation after such a terrible psychological trauma is unimaginably painful. She had to remember the scene that caused the injury over and over again, down to the smallest detail, and face him face to face. She gave up and cried many times. But in the end, Mizuki overcame the pain. This was not due to my medical power, but due to her own tireless efforts. Treatment in the clinic was coming to an end. "However… At that time, I encountered her bright and sweet smile. I was greatly seized by a thought unbecoming a doctor. I don't want to leave her. That thought was the reason I came to my senses....... However, once the treatment is over, I will never see her again. I will never see her again. What should I do? At that moment, a terrible thought came into my head. And I decided...
Больше информации об этом исходном текстеЧтобы получить дополнительную информацию, введите исходный текст
Отправить отзыв
Боковые панели
Year:
2022 Year.
Release date:
2022
Source:
Manga
Genre:
Motion comic, Big tits, Rape
Quality:
WEB-720PX
language:
RAW
English name:
Taboo ~ Seishinkai to Kizu o Otta Shoujo ~ The Motion Anime
Original name:
Taboo ~ Seishinkai to Kizu o Otta Shoujo ~ The Motion Anime
Director:
Survive
Studio:
Survive
Watch hentai online Taboo ~ Seishinkai to Kizu o Otta Shoujo ~ The Motion Anime free in good quality
---
Leave a comment
7-01-2023, 19:36