Inkou Kyoushi No Saimin Seikatsu Shidouroku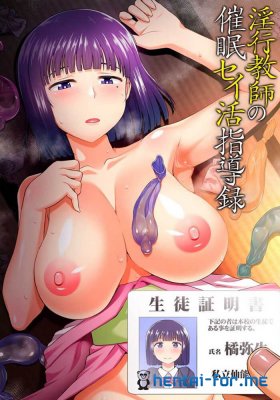 Antechinus studio has announced its intention to animate hentai about mind control. This is the anime version of the doujinshi "Inkou Kyoushi No Saimin Seikatsu Shidouroku doujin", which is divided into three arches, at the moment it is announced about the animation of two of them.
The story tells about a certain teacher who has a kind of analogue of a Death Notebook, but this notebook is not used to kill people, but only to force them to do perverted things. The way it works is simple: the owner must write down the orders in a notebook, and the person to whom the orders are addressed must read them directly from the notebook in order for them to work. So the main character, as usual, an ordinary teacher, enters into several sexual relations with female students on campus. And the first ones he will come across as victims are Megumi Fujinomiya, the school idol of all men, who recently started dating the leader of the baseball club and Yaya Tachibana, the heiress of the master of tea ceremonies in Kyoto, a sweet girl in a kimono, with elegant manners, elegant Kyoto dialect, and a still growing, but already quite decent ass, exciting all the men around.
Year:
2022 Year.
Release date:
04.2022
Source:
Manga
Genre:
Big tits, Oral sex, Paizuri
Quality:
WEB-720PX
language:
Subbed
English name:
Inkou Kyoushi No Saimin Seikatsu Shidouroku
Original name:
淫行教師の催眠セイ活指導録~藤宮恵編~
Director:
Raika Ken
Studio:
T-Rex
Watch hentai online Inkou Kyoushi No Saimin Seikatsu Shidouroku free in good quality
---
Leave a comment
5-04-2022, 21:36