Osananajimi to Doukyuusei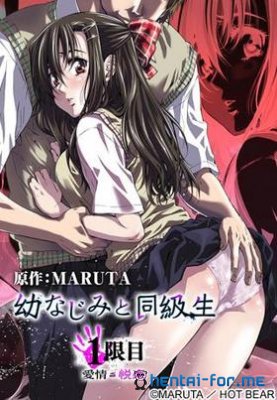 Depending on an original work of Maruta.
When heading back home from school in the usual train line, Miyu's breasts are groped by the train molester, there Shun, her classmate, appears and saves her. He walks her home and teases her in regards to the chikan groping her breasts, plus he also kisses her.
Miyu runs on home. The reality is however that this train incident was all a cunning trap plotted by Shun. Back home Miyu regrets having her first kiss stolen, then Kou, her childhood friend appears these types of Miyu losing her key takes her to his home. There Miyu confess her first kiss was stolen, but kou tells her they have kissed so it had not been her first kiss...that night Kou takes Miyu's virginity.
Overnight in class Shun apologizes and invites her home, Miyu accepts being unsure of is a trap. There Shun drugs her and trains her as sex slave...she resists at first, but...After that day when she remembers that they starts masturbating...did she actually as it? Does she want more? What about Kou?
Year:
2008
Release date:
Jul 31, 2008
Source:
Manga
Genre:
Students, Rape, BDSM, Big tits, Oral, Group, Chikan, Molester, Mature
Quality:
WEB-720PX
language:
Subtitles
English name:
Osananajimi to Doukyuusei
Original name:
幼なじみと同級生
Director:
Yoneta, Tomi Tetsuyoshi
Studio:
HotBear, MediaBank Co., Ltd.
Watch hentai online Osananajimi to Doukyuusei free in good quality
---
Leave a comment
4-01-2017, 17:07