Tooi Kimi ni, Boku wa Todokanai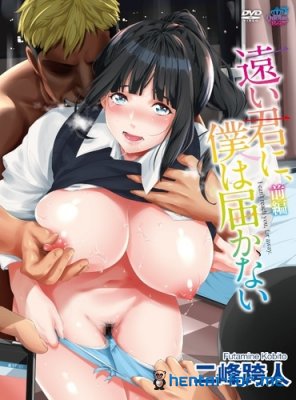 Tooi Kimi ni, Boku wa Todokanai is the first hentai anime adaptation of the manga of the same name from the fairly popular online author Futamine Kobito. The manga was released as a large tankobon in 2020, and individual stories were published in the monthly "COMIC AOHA" from July 2019. At the moment, 2 full-fledged OVA episodes are planned. The production will be handled by the notorious Queen Bee studio.
Hentai tells the story of a very complicated relationship between childhood friends Reki Shigen and Ayumu Matsuzono. They have been inseparable since childhood, killing time together and saving each other together. As time passed, the River grew into an incredibly sexy beauty, and Ayumu was weak and helpless, so he remained. Because of this, he often got into trouble, from which his girlfriend always helped him out. Once Ayumu got into a terrible situation - a group of villains grabbed him and decided to teach him a lesson. The river tried to protect its weak childhood friend as best it could, but the forces were unequal. Then they came to the aid of the brave karate Yamato-san, who saved our heroes with a couple of precise blows, which won the heart of the River. However, it was just a game... In fact, Yamato prepared a real punishment for Ayumu - he decided to fuck the River right in front of his eyes. Unsuspecting River gladly went to a love hotel with Yamato, and in the next room with translucent mirrors, his brave guys placed the unfortunate Ayumu-kun so that he did not miss a single moment during the first sex of the River...
Year:
2021 Year.
Release date:
26.03.2021
Source:
Manga
Genre:
Big tits, Oral sex, Netorare, Ahegao, Anal sex, Bukakke
Quality:
WEB-720PX
language:
Subbed
English name:
Tooi Kimi ni, Boku wa Todokanai
Original name:
遠い君に, 僕は届かない
Director:
Studio:
Queen Bee
Watch hentai online Tooi Kimi ni, Boku wa Todokanai free in good quality
---
Leave a comment
6-06-2021, 00:57