Nee, Chanto Shiyou yo!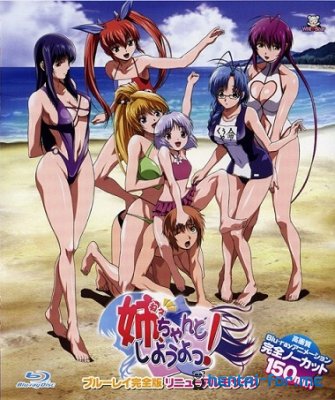 The main character of hentai Kuya Hiiragi, the youngest son of the hiiragi family. He lives in the same house with her six sisters. The highest name is Hinano - she's small in stature and looks much younger than her sisters and many take it for the little girl, however, this fact is very unnerving. The second-highest Kaname - she is a successful attorney among his colleagues became known as the "Icy Lawyer", by the way, she is the first love of our hero. Third sister Serori - the half-Japanese from the most eccentric character, but at the same time, her body stands out among all the sisters. The fourth sister Tomoe - a serious and even cause fear, but inside shy cute angel. The fifth Takane - Madam, no other way to describe her character. Well, the youngest baby UMI - loves the main character and not for a moment does not leave him alone.
Year:
2005
Release date:
2005-2007
Source:
Original
Genre:
BDSM, Big tits, Blowjob, Group Sex, Harem, Incest, Titsjob, Virgins
Quality:
WEB-720PX
language:
Subtitles
English name:
Nee, Chanto Shiyou yo!
Original name:
姉 、 ち ゃ ん と し よ う よ っ! ブ ル ー レ イ 完 全 版 リ ニ ュ ー ア ル モ ザ イ ク
Director:
Kanazawa Katsuma
Studio:
Studio 9 Maiami
Watch hentai online Nee, Chanto Shiyou yo! free in good quality
---
Leave a comment
24-03-2016, 13:45