Shikato Yarihoudai ~Nani o Sarete mo Mushi Shiyou to Taeshinobu Shoujo-tachi~ The Motion Anime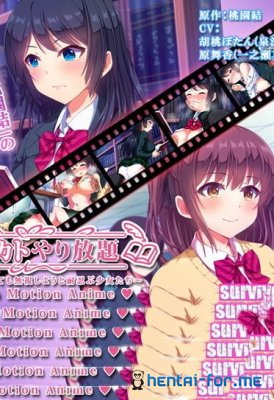 Studio Survive released another animated comic based on the CGI manga "Shikata Yarihoudai ~Nania Saretemo Mushi Shiyou to Taeshinobu Shoujo-tachi~" by Touenketsu in late March 2020.
The action of the plot of the hentai takes place in a private girl's Academy of Homeocan, which became famous throughout the country for its strict rules. It is mainly attended by a stratum of the elite, the offspring of the rich and famous. The main character was in this Academy by accident, but no one paid attention to him, as if he became invisible. The guy decided to play along with the students and teachers and right at the lecture began to molest two idols of the Academy-Ichinose Maho and Fumino Izumisawa. However, there was no reaction from the audience, and our hero decided to fuck two gorgeous sissy girls right in front of everyone...
Year:
2020 Year.
Release date:
2020
Source:
Original
Genre:
Motion comic, Big tits, Oral sex, Bukakke
Quality:
WEB-720PX
language:
RAW
English name:
Shikato Yarihoudai ~Nani o Sarete mo Mushi Shiyou to Taeshinobu Shoujo-tachi~ The Motion Anime
Original name:
シカトやり放題 ~何をされても無視しようと耐忍ぶ少女たち~ The Motion Anime
Director:
Touenketsu
Studio:
Survive
Watch hentai online Shikato Yarihoudai ~Nani o Sarete mo Mushi Shiyou to Taeshinobu Shoujo-tachi~ The Motion Anime free in good quality
---
Leave a comment
19-04-2020, 22:21