Sobo to Boku ~Obaa-chan, Nanika Dechau yoo~ The motion anime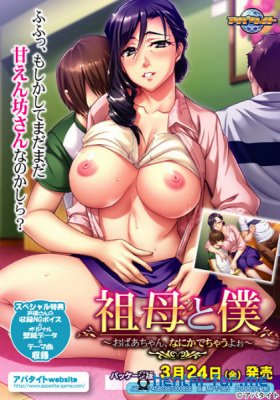 Animated comic "Sobo to Boku ~Obaa-chan, Nanika Dachau you~ the motion anime" is based on the game Studio "Appetite".
It was very dark, I suddenly woke up from an unusual tremor... My Boobs are all crushed up by someone. It was my grandson Shota-kun. He was sleeping next to me. ""Something happened?"she asked.
"Oh, well... I just needed to hug someone's boob right away, and besides you, I'm not here..."
"You're a grown-up Shota-kun and still need a boob to fall asleep?"
She tried to push him away, but he was stronger. "Does he perceive me as a grandmother or as a woman?"- she thought and at that moment...
Year:
2018 Year.
Release date:
2018
Source:
Vn Game
Genre:
Big tits, Oral sex, Incest, Paizuri, Creampie, Milf, Housewife
Quality:
WEB-480PX
language:
RAW
English name:
Grandmother and I - grandmother, nanikadechauyoo - The motion anime Sobo to Boku ~Obaa-chan, Nanika Dechau yoo~
Original name:
祖母と僕 ~おばあちゃん、なにかでちゃうよぉ~ The Motion Anime
Director:
Appetite
Studio:
Appetite
Watch hentai online Sobo to Boku ~Obaa-chan, Nanika Dechau yoo~ The motion anime free in good quality
---
Leave a comment
16-06-2018, 15:52