[MMD] Cuckold Homura Drunk Fuck Completed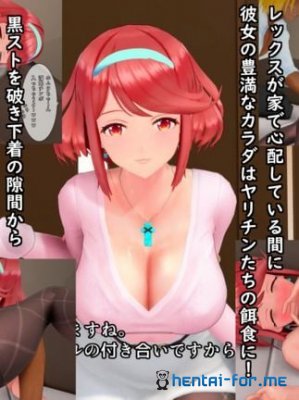 [MMD] Cuckold Homura Drunk Fuck Completed is a brand new MMD NTR work from popular MMD author Blendy. This time, the author decided to use a completely new and unique model of a girl named Homura from the popular Xenoblade Chronicles X game series. Blendy 13 did not dare to use models with big tits for a long time, as the animation of the breasts remained quite complicated for him.
The main character of the hentai Homura-chan has been living in a happy marriage with Rex for a long time. They love each other and live in perfect harmony. However, their idyll soon came to an end. Homura was invited to a large corporate party hosted by an employee of the Elysium Center where she worked. The girl quickly went over and passed out. At the same time, a whole bunch of anxious guys got very excited when they saw the huge tits and ass of the main character. In a drunken stupor, the guys allowed Homura in a circle, fucking her mouth, tits and pussy ...
Year:
2020 Year.
Release date:
2020
Source:
Original
Genre:
MMD
Quality:
WEB-720PX
language:
RAW
English name:
[MMD] Cuckold Homura Drunk Fuck Completed
Original name:
[MMD] 寝取られホムラ 泥酔姦編 完成
Director:
Blendy 13
Studio:
Blendy 13
Watch hentai online [MMD] Cuckold Homura Drunk Fuck Completed free in good quality
---
Leave a comment
16-11-2020, 16:26